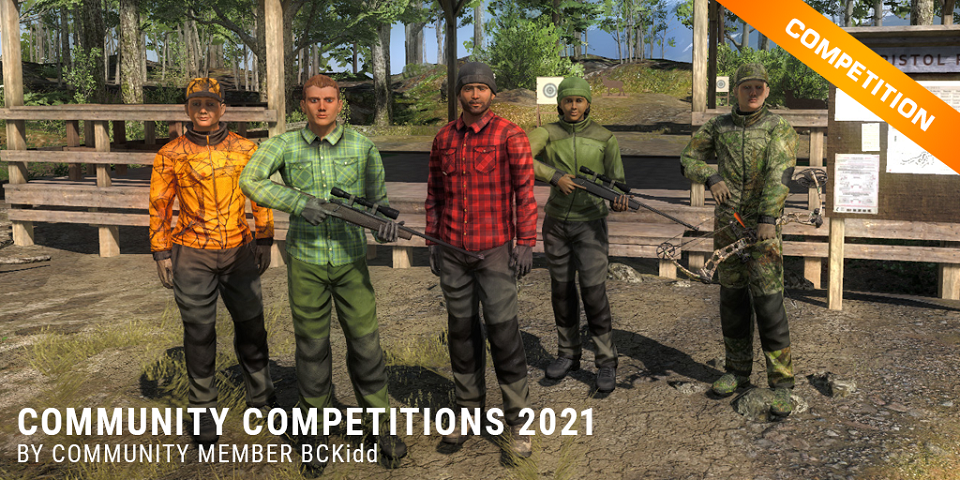 Thanks EW for revising the Banner for 2021!
"Sitka Cull 2021" Community Comp by BCKidd.
Start Date:
Friday April 16th 2021 Time: 00:00 GMT.
(*Thursday April 15th 4:00 PM PDT)
End Date:
Monday April 26th 2021 Time: 23:59:59 GMT.
(*Sunday April 25th 2021 *3:59:59 PM PDT)
~~It is the
competitors responsibility
to know when the comp starts and ends in their
Time Zones
. Here is a handy link:
https://savvytime.com/converter/gmt-to-pst
Essentially, I will announce on this thread when the comp officially
starts
and
ends
. Without those
announcements
it hasn't started nor has it ended.
Four Prizes totaling 6500 EM$
:
1st Place 3000EM$
2nd Place 2000EM$
3rd Place 1000EM$
4th Place 500EM$
**Hunt Requirements:**SP Only.**Single Species:
20 Sitka
**Gender Specific:
No
**Scoring:
Combined score (+) weight in Kgs (+) Harvest Value. In case of a tie, the combined furthest shot distance wins.
**Reserves:
Whiterime Ridge.
**Weapons Requirement:
Four rifle choices: 6.5x55, .243, .30-30, .303 Brit.
**Hand Guns:
Any ethical
**Bows:
Any Recurve-Bow, Long-Bow, Cable-Back, no Compound or X-Bows
**All 20 must be present to win:
Yes
**Submitted animals must die from one shot:
Yes
**Unlimited attempts**Maximum 20 submissions**Not required in one hunt.
Once you have submitted 20 you are finished.
**Other animals can be harvested:
Yes.
***Universal Requirements:***Hunts must begin
after the comp start, and end before the comp ends.
***Hunt/Scores
must be submitted, no matter how long the hunt was, within 90 minutes of hunt ending. (No Sandbagging)
***Hunts on competition
reserves must be >/= 60 minutes real time. (2 game hours)
***Cool Down:
Hunts on competition reserves must start no less than 60 minutes apart.
Not following this rule makes those hunts inadmissible.
Example:
You have a hunt on a competition reserve that ends after 26 minutes. You must wait the remaining 34 minutes before starting another hunt on a competition reserve.
Hunts less than 2 minutes with no distance traveled, no animals spotted or tracked (such as disconnects, can't connect to server) won't count toward the Cool Down Period rule. MP hunts on competition reserve will apply to the Cool Down Period rule. It is advisable that if you leave a hunt for any reason, that you use ALT+F4 to exit game. This updates hunt history immediately.

Until something better comes along- Here is the Blueprint you can use.
I will check all winning entries & Hunt Histories.
(Copy/Paste)
To add your score.
Example:
1st Submission # of Sitka
: Total Sitka = (score (+) weight in kgs (+) Harvest Value.) Complete hunt link here:
--------------------
CTS=
Conditions
I will be participating, not for any EM$ or accolades. I reserve the right to modify the rules and terms of this competition at any time between the date and time of this post, and the start of the competition. I also reserve the right to cancel this competition at any time. I reserve the right to disqualify any participant at my discretion for any reason, including but not limited to: cheating, unsportsmanlike conduct, harassment, spawn-mashing, et. al. Discrepancies & ambiguities in the rules or scoring will be addressed by the competition host as expediently as possible.