Champion Hunter
Posts: 20281
Joined: March 4th, 2011, 7:30 pm
Location: Switzerland
Contact:
How do you rate Black Bear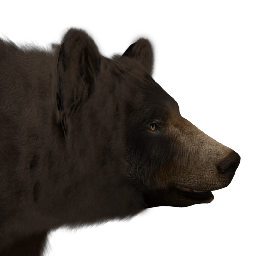 This one looks like a blow molded plastic piece to set on a shelf. The only audio is the roar you get right before your screen turns red from being eaten
The AI is good and it's the way a black bear should be, he should avoid and run away from us. IRL blacks don't want to run into us any more that we them. The only time they are dangerous is when mom is with her cubs, then she becomes similar to a Velociraptor that will hunt you down and kill you.
Outfitter
Posts: 4476
Joined: May 2nd, 2015, 10:57 am
I agree with Radamus. We need more than the roar. Usually an upset black bear will pop its jaws and make a coughing sound. I would really like to have that implemented.
In hunting, impossible doesn't exist any more than a sure thing does. - Tom Miranda
Yeah, this one needs a model update (same with brown bear, fox, cojote etc.)

Feedback on my work as a moderator is always welcome!
Tracker
Posts: 136
Joined: August 20th, 2014, 11:42 am
Location: North Carolina
I also agree wit Radamus. I have had a few encounters with black bears in the wild and find they mostly want to get away from you. Sometimes bears get curious but they usually end up running off because they want nothing to do with us. I would like to see some grunts incorporated into the model to give them some sort of audio cue to pick up on.
Hunter
Posts: 881
Joined: March 30th, 2017, 2:07 pm
Location: Sweden
If spooked they can hear a pin drop. Ridiculous at times as it gets annoying to track them in those cases. Not fun when all you're up to is that clearing that makes you take the shot.
---
Who is online
Users browsing this forum: No registered users and 1 guest