Doc Themed Wolf Event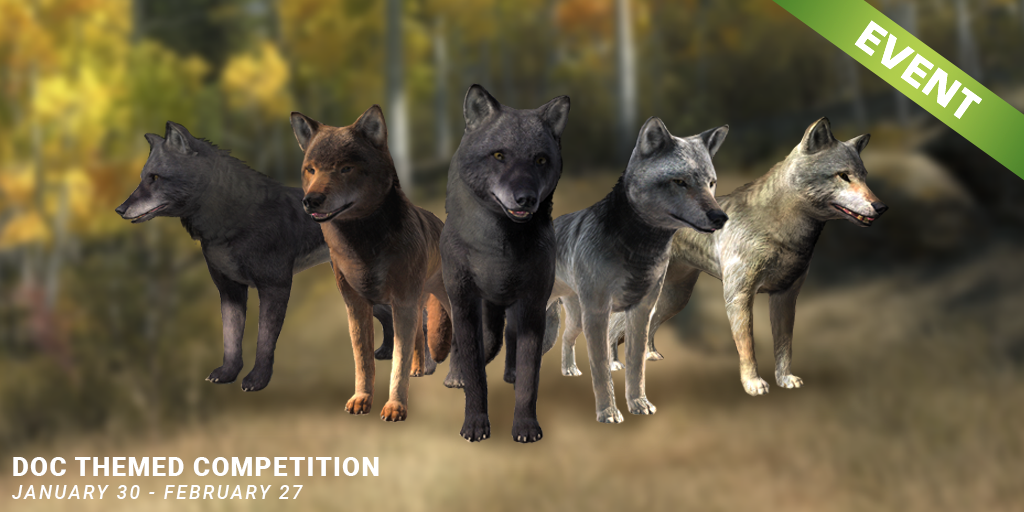 "Howdy Hunters!

Doc here, I have heard reports about the wolf population in Timbergold's starting to get
out of hand, so I went and took a look myself, you guys were not kidding! They need thinning
out a little, not only for the benefit of the other species in the area, but to insure we do not
get a disease outbreak amongst the packs. So I am reaching out to all hunters in the EHR for
your help to bring the population back inline. As a collective community I need you to shoot
every damn wolf you see, bring their tails in as proof and as the population comes down, you
will all be rewarded in stages, with some great prizes. To make things a bit easier for you all,
I have had some sound technicians put together a new E-call that attracts wolves!

Good luck to you all and thanks in advance."

You read that right hunters, it is time to do something about the wolf population once and for all.
Collectively as a community if you manage to meet the goals Doc has set, not only will you be
rewarded with some great prizes, but the wolf population will be reduced in Timbergold Trails, FOR GOOD!

There is now a new E-Call that can be purchased in the

store

and when used in conjunction
with the "Shockwave' Electronic caller it can be used to call in wolves. This should make
things easier and I would imagine ambushing them as a team, would be a good way to thin
those packs out!

The goals that Doc has set out and the rewards are as follows:





Depending what Milestone you reach, will depend on how much the wolf population will be reduced
by. For example, If you manage to meet the 'Legend' tier, the population will be reduced by half for
good and this is the maximum amount that the population will be changed!
As the Milestones are reached, wolves will disappear from the banner in the launcher, which can
also be clicked on to read more information. There is also a visual counter that can be found in
the top right of the launcher, that indicates how many wolves have been harvested.

Prizes get unlocked at the end of the event, tier prizes stack, so if the community reaches the Legend
Tier, you will receive all the prizes that are on offer for all the other tiers under it as well.

To qualify for the prizes you must harvest at least 25 wolves, Doc doesn't like freeloaders!

Good luck all and have fun!