I love the idea of this topic.
Ok, so I hunt mainly in the northern part of the lower peninsula of Michigan, with occasional trips to the upper peninsula and Canada. The area that I hunt is hardwood forests with large cedar swamps, oak ridges, berry thickets, and numerous lakes and rivers. The woods are full of whitetail, elk, coyote, turkey, the occasional bear, bobcat, Lynx, Martin, beaver, etc. As long as I can remember I've been going into the woods with my grandpa or dad, and later on by myself. These woods are like a second home to me. It's where I spend almost every free moment that I get. I'm having trouble finding just pictures of the woods, but I've got a few. I hope you guys enjoy.
Here is a picture of a small lake, we call them sinkholes here, that I fish in. Many times I've found herds of elk drinking here.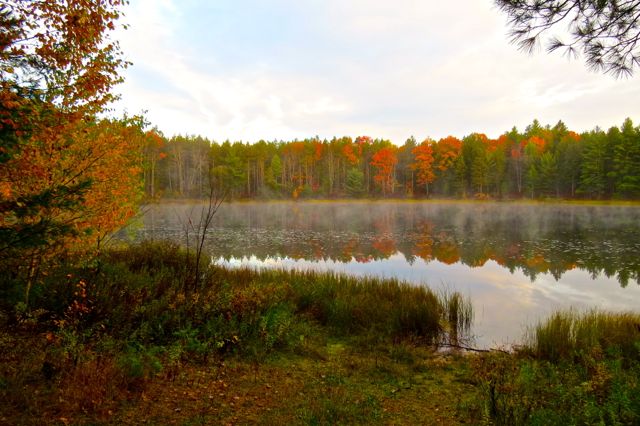 Earlier this year during the summer I went back to check my trail camera. When I was about 100 yards away, I heard some huge crashes and breaking branches. I never saw anything, and switched cards in the camera. That night, when I put it into my computer, this is what I found was there three minutes before me.
This is a nice buck that I was lucky enough to tag during this years firearm season. The rest of the story behind the buck is in the hunting highlights topic. I called my dad, who was with my little brother on a different piece of public land, and hey came to help drag it out.
I've got tons of stories and memories associated with the woods that I hunt in. I'll keep looking for more pics and get some more stories written down.