Champion Hunter
Posts: 20088
Joined: March 4th, 2011, 7:30 pm
Location: Switzerland
Contact:
How do you rate Red Deer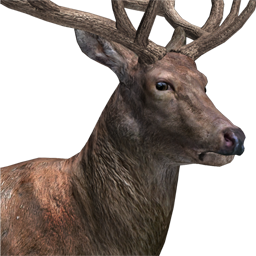 Appearance & animations are good in my opinion.
The AI and audio is close to reality but I miss the interaction (especially) between the bucks.
As you can see them fighting in a clearing and bell differently...would be great to see an improvement anywhen.
the big racks are really unnatural!

Feedback on my work as a moderator is always welcome!
red deer i really like but the antlers need a rework.im sure monaco steve could voice on that better than me.
the animal is also overly stocky.this was mentioned near release. a red deer which is wild is more athletic in build and wirey.our reds are more like stock animals or farmed ones.
Tracker
Posts: 117
Joined: April 1st, 2014, 5:13 am
Location: the Netherlands
I love red deer, but the big antlers are very unreal!
Their body model looks like the one of Roosvelt Elk, just smaller and retextured. Those guys are cloesely related, so I can live with that. What bothers me just a little bit are in-game antlers. Especialy those high scoring ones. Every high scorring IRL stag I saw on the internet is more about developing a little bit "moose-like" antlers, with multiple, long branches (those in the crown often connected by palm-like "web", hence "moose-like" impression), and not about the spread and lenght of main beams. I agree that in-game they look rarther unnatural. I suppose this might be some engine limitation to depict them more true to reality. I'm happy of course with my personal best stag, but I realy prefer the look of smaller ones - they look more natural to me.
---
Who is online
Users browsing this forum: No registered users and 1 guest