Champion Hunter
Posts: 20130
Joined: March 4th, 2011, 7:30 pm
Location: Switzerland
Contact:
How do you rate Wild Boar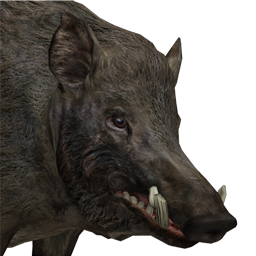 Here's another one that needs a refit in the art department. It's not as bad as the shiny plastic black bear, but almost as bad. Probably for what could be done at the time, it looks ok but when you compare it to some of the newer animals, It's obvious this one needs work. The visual of the fur is just so one dimensional. It reminds me of the printed vinyl wraps they use for cars/trucks for advertising, no depth, a single plane of color. There's a ton of potential for both pigs in the appearance dept.
@ Radamus:
thank god they got the hang of the fur alpha planes
i am sure this animal will get some love in the future!

Feedback on my work as a moderator is always welcome!
same as feral boar. globally poor. no fur and not enough eating animations. this is sad because in TH the pigs eating animations are pretty cool, but sadly way too rare. pigs squeal too often too for me. it seems that in some countries animals have different behaviors than where i used to live. but i still can't get why an animal will call all the time, thus giving his location to his predators
---
Who is online
Users browsing this forum: No registered users and 1 guest