Champion Hunter
Posts: 20088
Joined: March 4th, 2011, 7:30 pm
Location: Switzerland
Contact:
How do you rate Whitetail Deer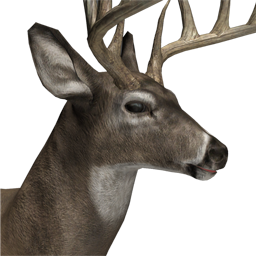 Outfitter
Posts: 4360
Joined: May 2nd, 2015, 10:57 am
Alright, so here are my thoughts on the whitetail model. I spend nearly everyday that I can hunting whitetails in real life, and when it's not deer season I'm thinking about hunting whitetails. It's an animal very very important to me, so I want to give as much info as I can as to how they could be improved.
Appearance:
The in game whitetail model is ok, I rated in as average. First off, the body isn't quite right. Whitetails, at the time of year that they are hunted, are much more gray than in game. Some get very dark. The whitetails in the game are almost blond in some cases. Next, the head. The head, in my opinion, is not shaped quite right. It's to flat and narrow. The neck also needs to be just a tad fatter, at least on the bucks. Finally, the antlers. This is where I feel that the model suffers the most. The antlers are way to wide. As of right now, a 115 in the game would probably score around 140 in real life. The antlers are also to flat, going straight out from the head. Most whitetails have a taller, more wrapped around rack with longer tines.
Animations:
The animations I rated as average as well. In my opinion they need to be more cautious and wary looking when they come in to the calls. Also, a buck coming in to a call should look a bit more aggressive, at least when coming to a buck grunt. I've had them come in in real life with their heads slightly lowered, ears pinned back, and dripping at the mouth. I would really like something like that. Also, scraping the ground would also be a nice addition.
AI and Behavior:
This is probably the area that could be improved the most. Like mentioned above, I think that bucks should behave much more aggressively when coming into a buck call. Also, often times a buck, when coming to the call of another buck, will snort-wheeze to challenge the opponent. I've had bucks do this before. It sounds similar to if you start to make the "t" sound and go in the pattern t t ttttttt. Hat would be really cool. I also really wish that the Bucks would fight, maybe even chase does in with the classic "dog trot". Maybe this final one is a dumb idea, but on occasion after runninga hundred yards or so, a deer will turn around and look back. If on rare occasions deer did this, that would be great.
Audio:
I rated this as good. Lots of people don't realize that whitetail deer make a wide variety of sounds outside of the grunt and bleat. As mentioned above, the snort-wheeze would be great when a buck is coming to a buck call. Also, if the Bucks and does ever interacted, tending grunts would be great. These are short grunts in succession. Often, when a deer scents something that they don't like, they will blow through their nose very lucky. This clears their nose for a better smell. (I also believe that they do this to try and get movement out of something. I know that they've made me jump on several occasions.
) Sometimes if a buck is with a doe and another buck shows up, the first buck will do what is sometimes called a buck roar. This is a loud, drawn out grunt. I've only heard it once, and have never seen a buck look so mad in my life. It was a mature eight tending a doe when a little six showed up. The eight roared and the six turned and ran.
These are my thoughts. I am by no means a whitetail expert and don't know half of what there is to know about them. Anyways, please let me know what you guys think.
So long as the new moon returns in heaven a bent, beautiful bow, so long will the fascination of archery keep hold of the hearts of men. - Maurice Thompson
Champion Hunter
Posts: 20088
Joined: March 4th, 2011, 7:30 pm
Location: Switzerland
Contact:
That's a pretty decent review I.A. and shows the incredible diversity every animal has IRL and the difficult task for EW to do them justice.

Especially the behavior when coming to calls would be a big step up and even sounds feasible. They put a lot more into animation these days compared to 5-6 years ago which is probably when they last updated the Whitetail. I can only see there was a body update at some point and don't even know if the animations were also improved at that time.
i would love to see some whtietail females to roam around in groups (3-5 individuals) like they do in real life (at least in all the hunting videos i have seen so far on youtube)

Feedback on my work as a moderator is always welcome!
---
Who is online
Users browsing this forum: No registered users and 1 guest