Social Media
Facebook:
https://www.facebook.com/thehunterprimal
Twitter:
https://twitter.com/theHunterPrimal
History and Project
In the last couple of years there were numerous requests to add dinosaurs to theHunter. EW always felt that a game around hunting dinosaurs in a Jurassic environment could potentially be a lot of fun, but they also worried that it would undermine the realism and credibility of theHunter, qualities that made many players fall in love with the game.
Even within the studio, dinosaurs had been a frequent topic of discussion. It then took off as a small breakout team started creating a dinosaur game as a side project, working after hours and over weekends. Avalanche Studios and Expansive Worlds management supported the initiative and offered the group of enthusiasts to use the Avalanche Engine that you know and love from theHunter, as the official development platform.
EW actively supports game development educational institutions. They have a long term commitment to several post graduate schools in Sweden and their aim is to have interns from these schools on their team at all times. Many of the EW staff started as interns and were then hired full-time.
theHunter: Primal, internally also known as "Project Flintastek" (ask a Swedish friend), had become an excellent side project for EW's interns to dig into, with some help and support provided by mentors from the full-time EW staff. This collaboration had become a safe isolated development environment where new items and gameplay features were born and tested. Some of the findings from this project have inspired new additions to theHunter. Since everyone who touched the project in one way or another seemed to be really enjoying it, EW thought it would be a shame not to give it the extra love it deserved and release it to the general public.
Source:
http://news.thehunter.com/introducing-thehunter-primal
FAQ
Q: Will this be multiplayer?
A: Yes.
viewtopic.php?p=641006#p641006
Q: Do you plan any Beta Test?
A1: Not right now.
viewtopic.php?p=641006#p641006
A2: We don't plan public beta-testing right now.
viewtopic.php?p=641058#p641058
Q: Will this be a purchase once type of product?
A: "theHunter: Primal is a side project for the Expansive Worlds studio, that will be released as a one-off payment product, in contrast to theHunter which is a service featuring continuous development and expansion."
http://news.thehunter.com/introducing-thehunter-primal
Q: Is theHunter: Primal going to jeopardize theHunter in any way?
A: theHunter:Primal is a totally separate game, although it can be seen as a "mod" to theHunter in the sense that it uses the same engine and a lot of features will be familiar.
viewtopic.php?p=641551#p641551
Q: What platform will this game be on?
A: It's going to be released for PC and will be Steam-exclusive.
viewtopic.php?p=641539#p641539
Q: Is Primal being played on a recent iteration of the engine or the same as theHunter?
A: It's based on the same engine as theHunter.
viewtopic.php?p=641058#p641058
Q: What about the quality of the animals in Primal?
A: Realism is important to us no matter of it concerns living or extinct species. Of course it is impossible to know exactly how they looked but we've tried to incorporate as much of the current science as possible.
viewtopic.php?p=641540#p641540
Q: Are we going to get separate sub-forum for Primal related stuff soon?
A: As this is going to be a Steam-exclusive game, the Primal community will be based on Steam. We'll have a separate forum here under "Other games and Tech talk".
viewtopic.php?p=641642#p641642
Q: What about pricing?
A: Regarding the questions about pricing, DLC, etc., it's a bit too early for us to tell. We'll be revealing more info closer to the release.
viewtopic.php?p=641591#p641591
Q: Can theHunter members get a discount to this dinosaur game ?
A: As a theHunter player, you'll receive a special offer on theHunter.
http://news.thehunter.com/introducing-thehunter-primal
Q: What is the game about?
A: You are a hunter and are placed in a big world where you have weapons, but at the same time you are the hunted as well. You can play alone, but you can not defeat all the dinosaurs yourself. To cope with a T-Rex there need to be at least three of you.
Source
.
New
Q: What dinosaurs will be in the game?
A: Utahraptor, a medium sized, cunning predator that hunts in packs. Tyrannosaurus Rex, a brutal 6 ton predator that fears nothing, and last but not least, the lumbering tri-horned herbivore Triceratops, all from the cretaceous period.
http://news.thehunter.com/behind-the-sc ... mal-design
Q: How will the dinosaurs behave?
A: Each species has a unique behavioural pattern. The T-Rex will more or less charge you on sight while raptors are more cunning and will coordinate attacks as a team. The Triceratops is a herbivore and will choose flight over fight unless seriously cornered.
http://news.thehunter.com/behind-the-sc ... mal-design
Q: What is the background story?
A: The lore of the game is something that we want players to discover themselves as they explore the world. It is a very hostile and brutal world that very few venture to by a choice of their own and that dinosaurs may not be the only threat you'll have to worry about.
http://news.thehunter.com/behind-the-sc ... mal-design
Pictures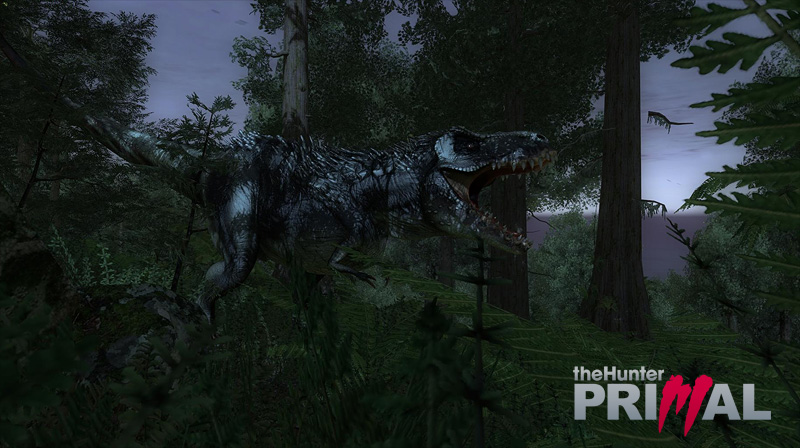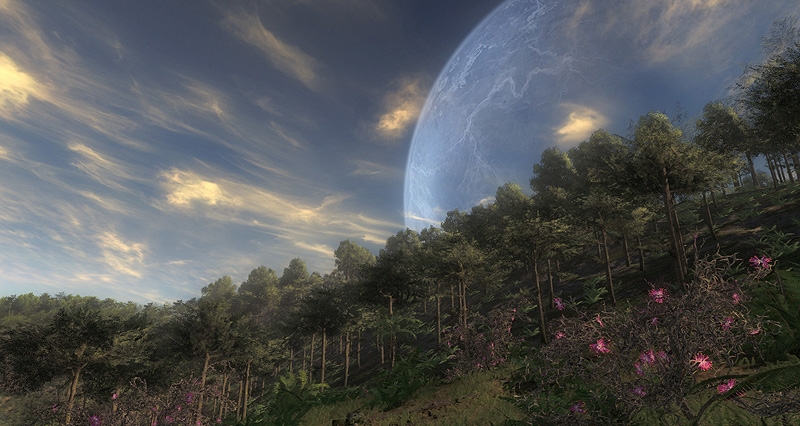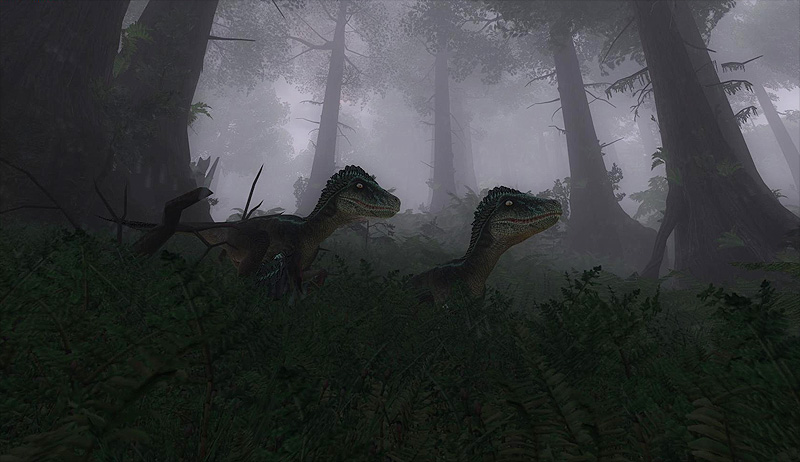 [imgur]http://i.imgur.com/8egpuyp.jpg[/imgur]
New
[imgur]http://news.thehunter.com/wp-content/uploads/2014/12/t-rex_with_feathers.jpg[/imgur]
[imgur]http://news.thehunter.com/wp-content/uploads/2014/12/world.jpg[/imgur]