Is this next bug about the weapon , the animal, the reserve , i don't know .
DYEUZ
Reserve : WRR
Game : MP, but in SP also .
What happened :
Couple times now since yesterday , i shot a Bison with the reversed xbow and not seeing the first impact blood splatter .
I see only the fleeing ones with no blood tracks at all .
I see , the impact of the arrow though ,when he's hit . The red penetrating wound .
After killing the Bison , the stats is not showing the shot with xbow at all .
There is no arrows showing on the Bison either .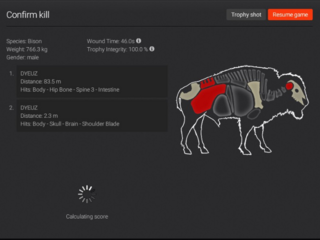 the 2 shots shown are with a rifle . One long shot in spine and one shot to finish him .
ALSO , never got the score . It kept spinning and spinning . does that a lot lately .
Steps to reproduce :
- Go in WRR and bring reversed xbow .
- Find a Bison and shoot it at about 50 meters .
- Go look if a impact blood splatter is found .
- Follow the fleeing tracks and look for blood .
Will test with the Tenpoint next and other species .
tyvm