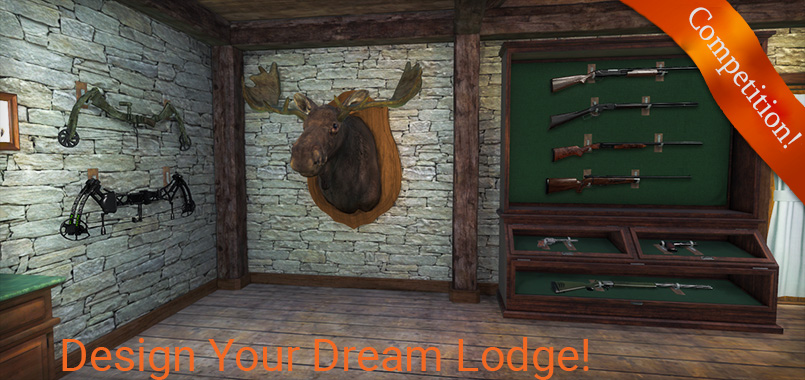 Hi all!
As you well know, alongside the Halloween excitement we also released a host of new options to customise your Trophy Lodge. To celebrate this auspicious occasion we thought we'd ask our community to get creative again!
The task: Share your ideas for a dream trophy lodge below. You have a lot of freedom, it could be your favorite wallpaper, or even a whole new fireplace design, or how about a hot-tub? An entire ground-up redesign? That works too! Your entry could take many forms, an edit of a screenshot of our existing lodge style, a collection of inspiration images from online with a description, or maybe you want to 3D model and do a video walk-through of your perfect hunting haven, the choice is yours!
Rules
*Please reply to this thread with your entry. ONE post per user. Edits may be made up until the competition deadline.
*Entries can be be made up of screenshots, photos, videos, or even a song. Whatever gets your point across.
*Closing date for entries is 23:59 CET 3rd November 2017
*Winners as chosen by the dev team to be announced on Monday 4th November 2017
Winners/Prizes
*1st Place - 3000 em$
*2nd Place - 2000 em$
*3rd Place - 1000 em$
Good luck, we can't wait to see what you come up with!
Competition winners have been announced here:
http://forum.thehunter.com/viewtopic.php?f=142&t=84290&p=902122#p902122