Search found 229 matches
by SoldierofGod

May 23rd, 2018, 7:56 pm
Forum: Latest News & Announcements
Topic: Game Update - 23rd May 2018
Replies: 141
Views: 9683
Could someone please provide me with a LINK to the Store Page that shows the New Rifle Scope and Rangefinder so I can BUY these. I have tried the link at THC Home Page that says BUY NOW and all it does is take me to the Bundles Page and none of these New Items are there??? I also went to the Rifle ...
by SoldierofGod

May 23rd, 2018, 7:45 pm
Forum: Latest News & Announcements
Topic: Game Update - 23rd May 2018
Replies: 141
Views: 9683
I am having trouble finding the new scope and rangefinder for purchase. I am using steam, anyone else having this issue? I checked the rifle scope section and the equipment section. No where to be found. I even tried clicking the advertisement of them that says buy now and it takes me to the bundle ...
by SoldierofGod

May 23rd, 2018, 7:36 pm
Replies: 10683
Views: 779012
by SoldierofGod

May 16th, 2018, 12:20 pm
Forum: General Chat
Topic: Dead Elk as bait?
Replies: 6
Views: 492
I almost always see wolves somewhere nearby carcasses. I am pretty sure they are wolf spawn points.Yes they do attract wolves, because I have seen them eating elk carcasses before. But because of how much they like to roam around and chase elk, I wouldnt recommend waiting for one at a carcass to eat...
by SoldierofGod

May 11th, 2018, 8:12 pm
Topic: Share your Non-Typicals!
Replies: 2100
Views: 180555
A small non typical mule deer. I thought it looked cool and was a good trophy shot. The smallest antler has a lot of tiny points throughout. Scored 105.866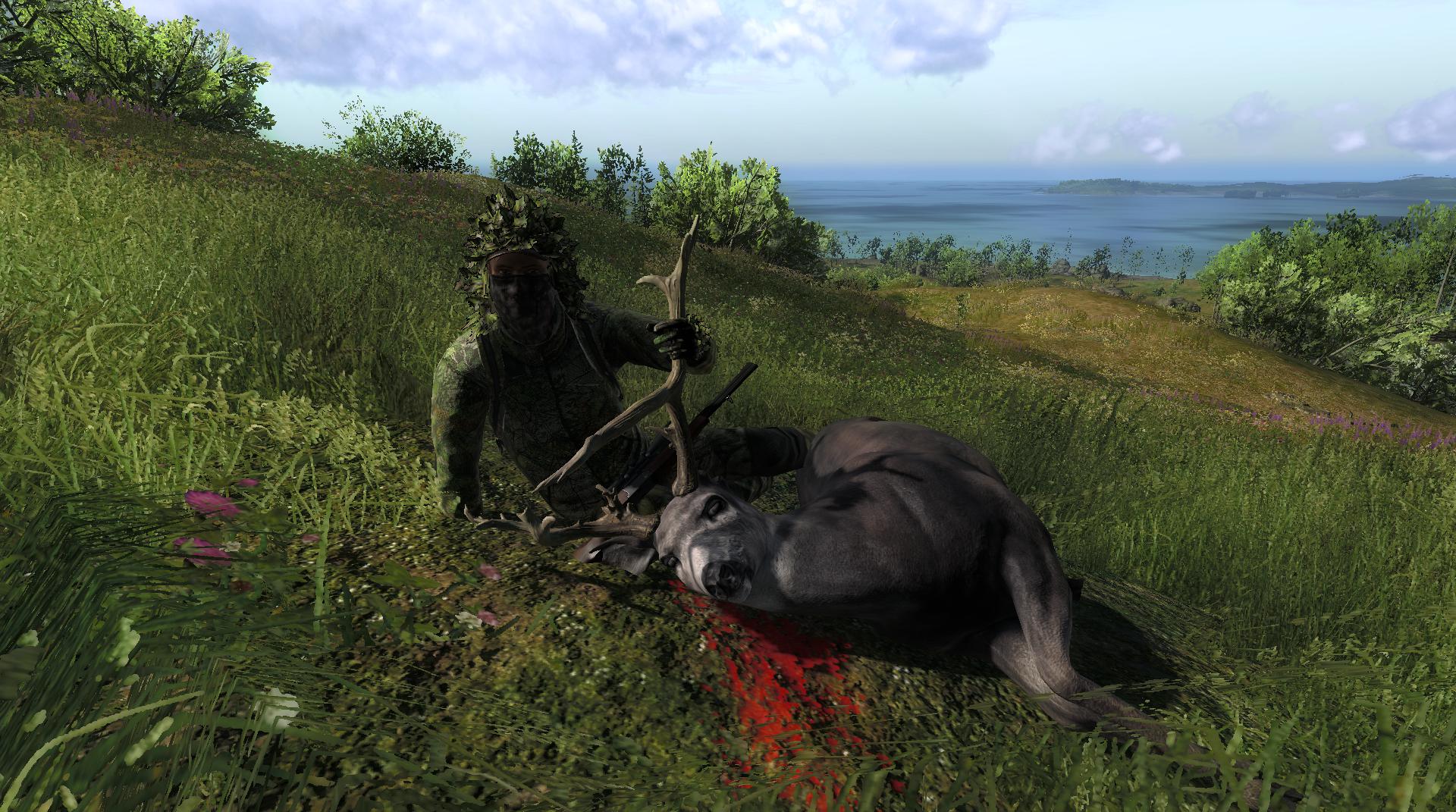 by SoldierofGod

May 9th, 2018, 9:11 pm
Topic: Post Your TruRACS Trophies!
Replies: 11577
Views: 256044
Got my personal best Roosevelt Elk scoring 393.388 with the Parker Python Bow. Before this guy I was only able to get a 360 elk. Happy to get one so close to 400. https://photo.thehunter.com/46/b2/46b2647f17348b6c20b2b39223d5fd5637ba8531.jpg Btw the dead animal behind me was one of the three Blackta...
by SoldierofGod

April 9th, 2018, 9:51 pm
Forum: General Chat
Replies: 200
Views: 12590
I have to agree with Ravenousfox about the magpie geese. It seems to match the color of the first pic. Also the sound clue is likely of geese. These geese seem to be hunted alot in australia. PB and/or BRR would be great for a waterfowl species. So my guess is also Magpie Geese.
by SoldierofGod

April 4th, 2018, 12:36 pm
Forum: General Chat
Replies: 200
Views: 12590
I agree that it looks like quail feathers most likely. Maybe they will release a pointer dog with it? That woukd be cool.
---